Key services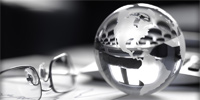 Essential part in creating a unique identifier for their business.
Entitlement to use logos, marketing systems and business processes to generate revenue.
If you suspect someone is using your IP without your permission, take action immediately.
Safeguarding Your Brand, Company, Product or Service
What if Coca-Cola did not trademark its brand, can you be sure that the can of Coca Cola in your hands was brought to you by Coca Cola? Apart from successful marketing campaigns and product innovations, what else did they do to protect their inventions and brand name from getting stolen?
The Answer : Intellectual Property Rights Protection
By protecting your intellectual property rights, you can distinguish and protect your brand and product from your competitors. But engaging an intellectual property law firm can be daunting and can get very costly.
That's why Svetlana Spesivtseva, LL.M., founder of IP Bureau and leading Russian trademark attorney, devised packages that are simple, straightforward and cost effective for all businesses — from entrepreneurs to large organizations. Her intellectual property rights services include trademark registration, trademark license and franchise agreement and protection against trademark violations.
Svetlana's extensive knowledge and vast experience in intellectual property and trademark law has resulted in a high regard for her services locally and internationally. She is capable of helping businesses of any size and industry to protect and maximize the value of her clients' intellectual property. Svetlana is also renowned in providing strong insight and practical advice to her clients as well as develop a strategic focus towards each client's request. She is also ensures that the decisions her clients undertake are aligned to their business goals.
IP Bureau's client base is made up of both Russian and international companies across various industries and the firm offers to them a variety of intellectual property management services. Click here to find out what they think of IP Bureau's service.
Read how IP Bureau can help protect your brand.