What IP Bureau can do for your business?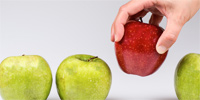 Successful businesses inevitably attract competition and can provide you with unnecessary trouble if your creative ideas get stolen. Hence, whether you have a new product innovation or technical process, it is important that your business is legitimately safeguarded from unfair competition through intellectual property protection.
Svetlana is an expert in all areas of intellectual property advice and registration. Her core services include trademark registration and protection as well as intellectual property license and franchise. She also provides a full suite of other intellectual property rights services.
Click on the left for a detailed understanding on how IP Bureau can help maximize your commercial value of your business.
Sectors:
Banking and finance
Biotechnology, medicine and pharmaceuticals
Fashion and cosmetics
Music
Entertainment
IT and telecommunication
Art, photography, design
Publishing
Machinery and transport
Retail
Consumer products manufacturing
Sports
Insurance
Construction, real estate
Chemical industry
Startups
Internet-companies
Science

Contact IP Bureau for a non-obligatory discussion today! Fill up the form and Svetlana will contact you within 24 hours.